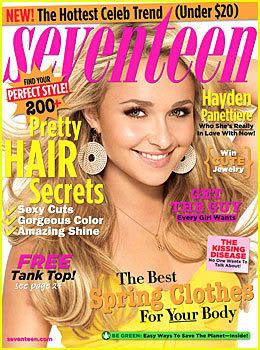 Hayden talks to Seventeen Magazine in their April Issue about her life and wanting to save the world.She talks about her fight against whalers in Japan, why voting matters and her very personal crusade to find the right guy!
Enjoy some interview snippets:
On breaking up with Stephen Colletti:
"I just knew I wanted to breathe. I wanted to be single at the time. It just hit me like a ton of bricks: This is the time I need to be with myself. It takes such a secure person to be with someone like me—it takes so much confidence; it takes so much trust."
On wanting to be girly and just have fun:
"If I was a wonderful person, I'd run around in whatever clothes and have one outfit – and then I'd donate the rest of the money to charity. But no one is perfect, and no one is saying you have to give up everything in your life to change the world."
On what it was like fighting whalers in Japan:
"It was great! There's very little that scares me. I've always been a physical person. And I feel like a lot of time in this industry, a lot of people loan their face to a cause, which is great, but it doesn't do as much as getting out there and actually physically doing something.
source