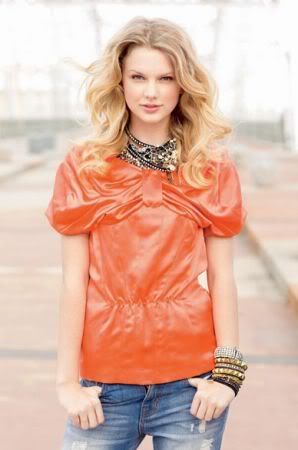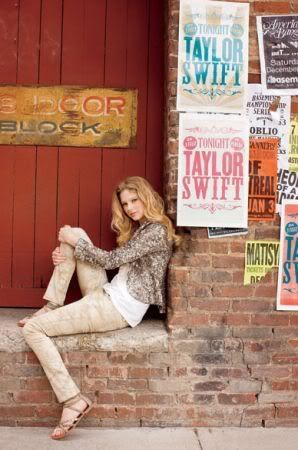 TV: And then in the ninth grade, you signed a song-writing deal, moved to Nashville, and here you are. Did you ever see those girls again?
TS: Actually, I did! I played a hometown show about a year into my career, and they showed up, wearing my T-shirts and asking me to sign their CDs. It was bittersweet, because it made me realize that they didn't remember being mean to me and that I needed to forget about it, too. And really, if I hadn't come home from school miserable every day, maybe I wouldn't have been so motivated to write songs. I should probably be thanking them!
TV: Totally! Since you're known for writing very honest, almost confessional lyrics, everything is fair game. Has that changed the way you approach your relationships?
TS: Well, I'm typically single. I'm the girl who—I call it girl-next-door-itis--the hot guy is friends with and gets all his relationship advice from but never considers dating. Right now I'm not opposed to falling in love, but I'm also not exactly out there looking.
TV: Does success make it easier to meet people?
TS: It's weird—I thought I'd have so many more friends, but I feel like I'm less popular than I've ever been. It makes me value the people I can trust even more; I still have the same best friend I had all through high school.
TV: You're playing yourself in the
Hannah Montana
movie. Are you interested in acting?
TS: Only if it was a show that I loved, like CSI or Grey's Anatomy, or if it was a really cool script. But I'm not feeling this desperate urge.
TV: On Fearless, you sing about your penchant for T-shirts and sneakers, and you're the face of the denim line L.e.i. But it seems like you've been busting out some pretty glamorous looks on the red carpet lately.
TS: Thank you! I've learned a lot. I go to all these photo shoots, and each time I figure out something new about myself and what I want to wear. For a big night, I like Marchesa or Badgley Mischka—and I love Oscar de la Renta. I've never gotten to wear one of his dresses; if I ever did, I would probably faint. And I am obsessed with high heels.
TV: Does it feel strange to have so many people taking your picture all the time?
TS: Well, I've never had paparazzi in Nashville before; that's a new thing. You really have a lot of privacy here. I saw that documentary on Britney Spears, and I feel bad for her—she can't leave her house!
TV: At what point did you realize you finally made it?
TS: Oh, no, I'm never going to have that moment. All of this is amazing, but it doesn't guarantee anything about the future. I still haven't made it to where I want to be.
Here
is the behind the scenes video
here
is the rest of the interview
source
for the cover photo