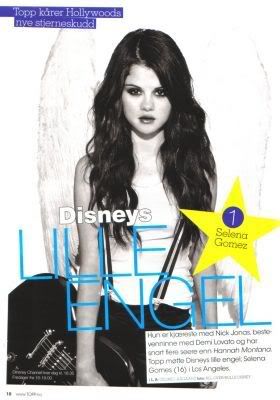 How has your life changed?
- Everything has changed, and that is both good and bad. It's sad to live away from your parents, but I love what I'm doing and I don't know what I'd do without it.
- What do you love about your job?
- That I can come here and do what I love. Working for Disney is fantastic. This year so much will happen. With a new season for my show, I'm also working on my new album, and with Demi on Princess Protection Program.
- How do you keep yourself so grounded?
- That credit goes to my parents. I'm only 16, and I need them in this business. My parents can also say no for me, says Selena.
- How is you character Alex in proportion to you?
- She's a little mean, and gets in trouble a lot. I try to stay away from trouble - and I'm also an only child, and Alex has two brothers. But we both like to have fun, Selena laughs.
Selena has had a celeb crush on Shia LeBeouf, but now she's really into Nick Jonas.
- We're a great match, and we have the same intrests, she says.
- Do you have any role models?
- Hilary Duff! I love Lizzie McGuire, and that I could do a follow-up to her movie was so cool! I also like Rachel McAdams. She's down to earth, and not a lot in the media.
- What does your friends think about you being a celebrity and being in magazines worldwide?
- I'm still Selena, and they're my friends. The difference is that I'm homeschooled, and I have a different job.
- You're Hollywood's new favourite. How do you handle having paparazzies following you?
- There are both positive and negative sides with having paparazzies after you, but it keeps me in the limelight. I have to be nice to them, if I want them to be nice to me. It's something I have to get used to. A lot of celebrities want a paparazzi after them, so I'm not complaining!
to read more of the interview click here