Brittany (in Alice + Olivia) attends the 8th annual Jed Foundation Gala at Guastavino's in New York City. Here's what the she told JustJared.com at the event: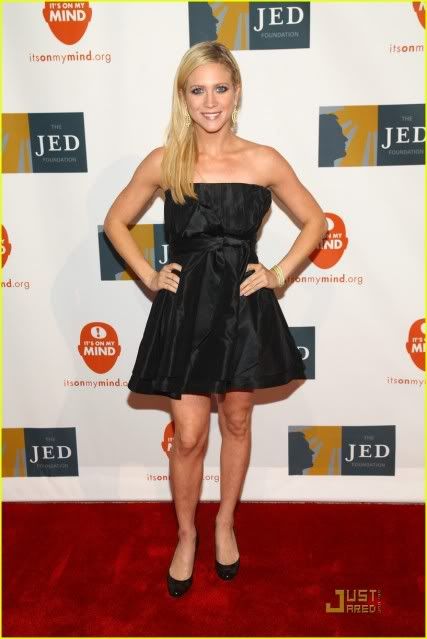 BS: Wait you're Jared? Shut up! I love you, my friends love you, we check your site all the time.
JJ: Thank you, you're so sweet! How did you get attached to the JED Foundation, the nation's leading organization working to prevent suicide among college students?
BS: I did a PSA for them three years ago. I also had a friend who committed suicide when I was 17, so I wanted to get involved with an organization that dealt with that. Being aware of mental health issues is important and we have to help reduce the stigma of people thinking it's something that you have to deal with on your own.
JJ: Are you going to dye your hair back to brunette?
BS: No! I'm staying blonde, I definitely like it better.
JJ: Are you filming anything right now?
BS: We're about to start shooting Walks, this is my boyfriend Ryan (Rottman, pictured below), and he's producing it and we're about to start doing that in a few weeks. After that I have a few other projects that are lined up, so just movies and stuff.
JJ: What's the timeline for you, Ryan and the movie?
BS: It happened kind of simultaneously, I read the script first and loved it before I even knew him, then it just kind of happened that he was producing it, and also in it. My character plays the girlfriend of Ryan's character, which is actually really weird and not that far of a stretch. It's all about a graffiti artist in NYC, and I play the girlfriend of this graffiti artist who has to go away for a while. We're shooting in NY, too.
JJ: Are you in NY just for the film and then heading back to LA?
BS: I'm in NY tonight for the charity event, then I'll go back to LA and then come back to NY for the film.