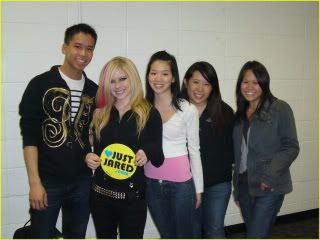 Just Jared (plus entourage) went to see Avril Lavigne in concert earlier this month at Nassau Coliseum in Long Island, New York. And it was crazy fun from start to finish!The whole night was crazy from start to finish, so I didn't have time to chat with Avril then. But on Friday, Avril phoned up with Just Jared for a little heart-to-heart. Thanks to all my awesome readers who sent in their hundreds of questions. I asked her a few of them!
JJ: How did you spend those two days in NYC?
AL: I got a tattoo! I got a star on my [right] forearm, and Allie, my friend got like a little tattoo too.
Avril's new star tattoo)
JJ: What else did you do in the Big Apple?
AL: We just got our nails done and went shopping and then just partied and went to Koi. Because I've been on the road, I haven't had sushi in for so long.
JJ: What number tattoo is this for you?
AL: Seven?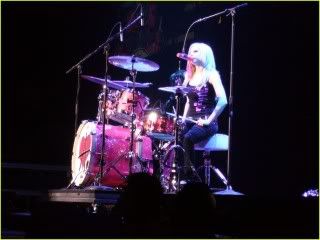 JJ: How do crowds react differently in different parts of the States, or even the world?
AL: Every crowd is so different, from different countries, There are some crowds that are really over the top–like Paris. It's like a moshpit. Europe is always crazy, the fans are just insane. The European lifestyle is to let go and be free. No one holds back so the concerts are always a hundred times more louder and intense…it's totally different there.
I also play in South America, so I went to Brazil on my last tour and that was like crazy also. And then Asia. They're really amazing over there. They're really funny because they're really quiet and reserved. Like in Japan, in between songs, they'll be really quiet. Or if you're playing a slow song they'll be really quiet. But then when I play something like "Sk8er Boi", they're like bopping everywhere. So its really different everywhere, but I like that. It's kinda neat to see.
JJ: How did the last tour differ from the current tour? How did you prepare differently?
AL: I didn't even prepare for my last tour. I just went on tour and played my songs. Every night, I was always taking notes on my last tour and videotaping the show and sitting down and trying to make it better. This time, I started planning this tour and the tour treatment a year before the tour started. I was thinking about what set list, what covers to play, what kind of crowd stuff I wanna do. I knew I wanted to play the drums, so I was like, 'What song am I gonna play it on?'
I prepared the treatment in a [Microsoft] Word document and then I brought in set director Jamie King. I just gave him my set list and told him what I wanted to do and he helped me make it all happen. Before my tour, I was really young, so I didn't really know what worked. Like, I always had my voice, so I would just go onstage and sing but now my thing is I really want to be a good performer, not just a singer.
JJ: Who do you like seeing on tour yourself?
AL: Green Day was really good. I think Sum 41 is really good live. Of course I went and saw the Spice Girls. I don't get out to a ton of concerts, but I like to if I can.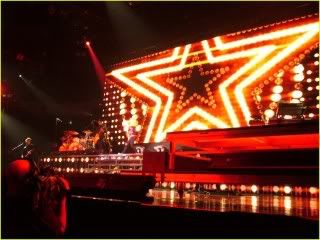 JJ: How do you manage your personal relationships such as your marriage while you're touring?
AL: It's all about the Blackberry, texting, email and Skype…
JJ: How did touring with the Jonas brothers come about? Was it your idea? Management?
AL: Well I'm only doing eight shows with them. Right now, my North American tour is two and a half months, so I'm doing that just with Boys Like Girls. And then I go to Europe for two months. I could be wrong but I'm kinda helping The Jonas Brothers out by introducing them over there. We're gonna do eight shows there together.

source